I was featured in 2 more treasuries this weekend :)
Things that totally FREAK me out.... http://www.etsy.com/treasury_list.php?room_id=29127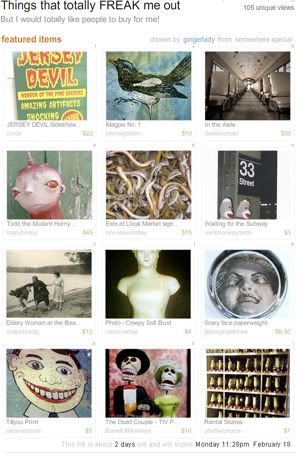 AND
Urban Fervour .....
http://www.etsy.com/treasury_list.php?room_id=29026
It was a busy weekend we found super yummy vegan pizza at Authentic Coal Fired Pizza in Bradley Beach. It was the best pizza I have had in years. As good as delo's tomato pie in Trenton I would say but this was pizza, not tomato pie.
After dinner and a cup of tea we headed over to a bar inside a bowling alley to see D's cousin's band play ... I love the characters we saw there. It was like Collingswood Flea but at a bar. It really is amazing I love people watching. After the band played we stopped in Asbury Park and checked out an awesome and inspirational art opening at Cry Baby gallery in Asbury Park
http://www.crybabyartgallery.com/events.php
Despite our hectic Saturday I spent the rest of my long weekend as I promised myself making art and tying up loose ends. I am in the midst of a new sort of series using my photo transfers. A combination piece that will mix printmaking, collage and my photo transfers. It's in the works I just hope it comes out as good as it seems in my head.