I am at the end of a wonderfully relaxing 4 day weekend. I have spent my long weekend crafting, cleaning, taking photos and searching. I have been searching etsy for some of my favorite things.
Today being that it is Martin Luther King Day observed I have decided to feature a few of my favorite items that represent freedom.
Take a look at these wonderful artist's listings!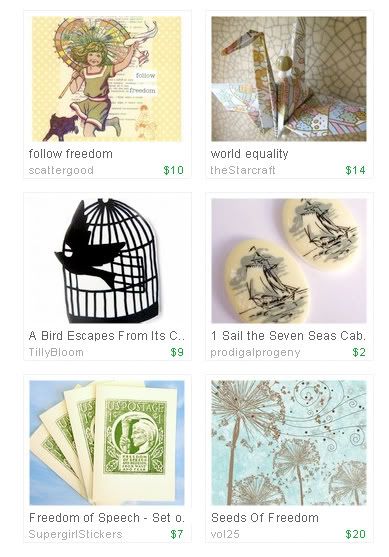 Please...
1) Buy hand made whenever possible
2) Buy local and American made whenever possible
3) Recycle, reuse, upcycle!
4) Go green...
5) Go vegan or at least vegetarian please, even eating 1 vegetarian meal a week will help our environment.
Well that's it for tonight. Back to work for me tomorrow.
Peace, Love and Freedom.
-JaK
vist http://www.jakrandomart.etsy.com
I am having a special buy any 2 $15 cuffs for $25 or any 2 $12 cuffs for $20.