This is the fifth story in my series on featured Etsy sellers I hope you take a moment to check out Kate's shop and that you enjoy her creativity as much as I did.

PhriendlyK8.etsy.com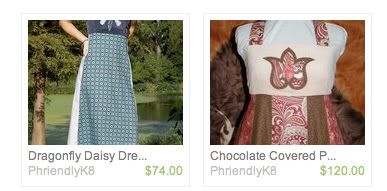 I'm Katelyn Safford a newly-wed living in New England. I live in a tiny studio apartment which doubles as my sewing area. I have a degree in Art Education, and I am looking for a full time art teaching job. Art and sewing are my two passions!



How Did you get started?
In middle school I was very small and couldn't find "cool" clothes that fit me. I asked my mom to teach me to sew, and I made a bunch of my clothing. I have made lots of things for myself and friends over the years, and recently decided to share my creations with others through joining Etsy!

What Inspires you?
I am very inspired by nature and music. My eyes and ears are always open, looking and listening to everything around me. I find the colors and patterns in nature very inspiring and beautiful.
Eco-Friendly Tip:
I try to use a tote bag at the market instead of taking a plastic bag. I sell a few totes in my shop that are great for this purpose!
I would like to add:
I love custom orders! I love hearing the ideas of others and bringing them to life for them!