This is the fourth story in my series on featured Etsy sellers I hope you take a moment to check out Hillarie's shop and that you enjoy her creativity as much as I did.

www.hillarietasche.etsy.com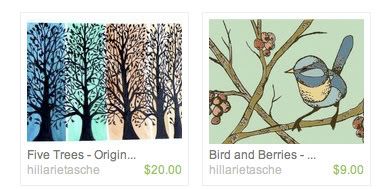 I'm a 22 year old law student from Saskatchewan, Canada. I've been painting for five years. I started with large arcylic and oil canvas pieces, and have more recently moved into Ink and Watercolour aswell as Digital Illustration.
What inspires you?
My Mother, Cyndi! She is a very successful prairie watercolour artist, and almost everyday when I sit down to paint, I see her style in my brush strokes - It's uncanny! I'd love to be half the artist she is!
I feel my paintings are a pretty big expression of who I am. I am urban, but I am earthy and I love nature. My roots are in the country, but now I am a city girl. My paintings reflect those facets of me!
My blog is
www.hillarietasche.com
, and my personal site is
www.hillarietasche.googlepages.com