This is the first of hopefully many featured Etsy sellers I hope you take a moment to check out their shop and that you enjoy their creativity as much as I did.

www.recycledideas.etsy.com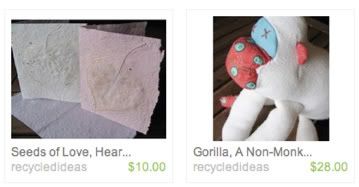 Tell us a little about yourself
I'm a newly minted PhD who conducts interdisciplinary research on primate behavior. I have two dogs, a Newfoundland puppy and an old spaniel mutt, who make frequent appearances here. When I'm not looking for the perfect tenure-track position, I spend time creating primate themed art and paper crafts.

How did you get started?
I started making paper 10-12 years ago after I saw a TV spot about it. I made my own equipment and have been using it ever since.. all except the blender ;=)

What inspires you?
Nature and science

Since your shop features recycled items do you have any good recycling tips or other earth friendly tips?
Be a responsible consumer first. I prefer things with minimal or no packaging. Re-use as much as you can. Walk. Walk even if it seems too far. You will be healthier and happier - and have a lot more money in your pocket. Insulate your house, and program your thermostat to be off at night. Check out the website
http://www.eMagazine.com
- It's a wonderful place to stay abreast of environmental news, get sustainable living tips, and also shop from earth-friendly stores like mine.
Visit Recycled Idea's blog
http://newfoundlandnews.blogspot.com/