I woke up today with all the intentions of working on some new art. But Saturday being my only day before our annual puppy bowl party I had to go shopping for some food. Of course by the time we got home and made lunch which was this amazing kale salad it was already 1. So I set out to my studio to work. But I was so distracted so I went outside and set to a task that I have been thinking about for a long time. Behind our house is sort of a wasteland. I prefer it that way. It is full of animals and a feral cat colony that we take care of. Over the summer our landlords had to clear out a lot of the brush due to a plumbing problem but they left it all in piles along with trash that has been out there for years. It is horrible looking and we have a lovely view of the river and ocean but looking onto beer bottles has bothered me a while. So today I set about picking up the trash. Amongst the beer bottles and odd findings I found a skull. It was an animal skull I think maybe a racoon's or maybe a possums. They lost a tooth. I left it. Such is nature. But I did take some pictures. I couldn't stop thinking about it until I grabbed my camera.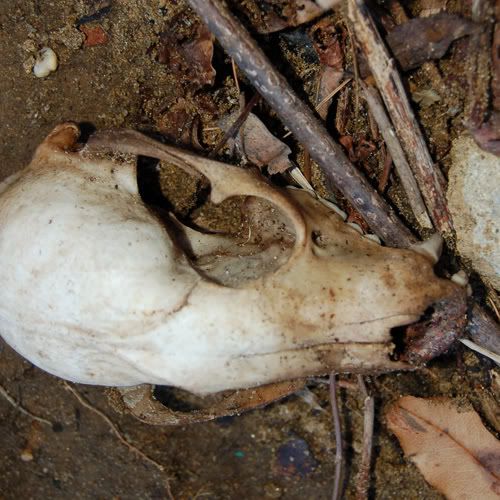 Tomorrow is super bowl suday and we will have our puppy bowl party with all the homemade vegan goodness, music, and some close friends it is such a great day.
Sorry but I have no picks for today.