RetroCycle.etsy.com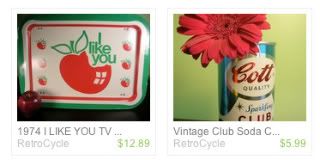 I am a huge fan of vintage finds. I love to wonder around the local junkologist shop and OGFM is a holiday in our house! for those of you who don't know OGFM it is the Ocean Grove Flea Market, a day in Ocean Grove where vendors sell their wares and all the homes have yard sales.
Vintage is a great way to reuse and really can help our planet. I really enjoyed retrocycle's shop and hope you do too.
How did you get started?
I have always been a collector and I remember being out with my grandparents when I was about 11. I saw a vintage metal electric fan in the window of a resale shop. I begged and they bought it for me so I guess that was the start. I still collect vintage fans today. I just admire the quality and workmanship that went into these older items. Most of my vintage fans and toasters (yes, I collect vintage toasters) still work and they are between 50 to 75 years old. I really hate the way we live in a disposable society now--everything is made of plastic, cheap and meant to break so you run out and buy another cheap piece of plastic.

What inspires you?
I love seeing the range of vintage on Etsy. A vintage shop is so much a reflection of the person who runs it. Also blogs where vintage and modern are mixed into fabulous new decor ideas. My favorites are
design*sponge
and
Mintage Home
. I also love it when people on Etsy really make wonderful items out of vintage finds. One of my favorites is
Artsy
Also I find it interesting where my items end up. Just this week I sold a pair of shoes I found here in Nashville and in about 14 days those shoes will be walking the streets of Paris!
Since your shop features repurposed/preloved items do you have any good recycling tips or other earth friendly tips?
Cleaning my items is usually the most challenging part of the process. I have learned the hard way to start with gentle cleansers instead of harsh chemicals--vinegar and baking soda work wonders!