Todays featured seller is Cork and Cotton. I am totally in love with her bags! You have to see them
CorkandCotton.etsy.com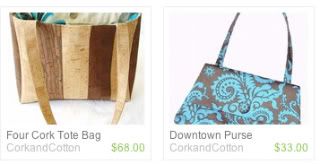 I'm a wife, mother, and handmade craft enthusiast.
I have sewn most of my life. My Grandmother owned a custom sewing shop in Canada and taught me how to sew on her many sewing machines. She also taught me how to make my own sewing patterns. Now that my children are older and have their own interests, I was able to start my own design and sewing business.
Fabrics are my inspirations, especially the cork fabric I have been using for the past year.
There is a cork store near my family in Canada and I became fascinated with all the uses of cork- floors, furniture, lighting, wallets, just to name a few. But what I find really fascinating is it's renewable properties. The bark that is stripped off the cork oak trees grows back so it can be harvested again in about ten years, and the trees grow to about five hundred years old!
The cork fabric too is not what you expect when touched. It's soft, just like leather, it is not like the ground up cork we are used too. It is also durable, lightweight and waterproof.