This is the third story in my series of featured Etsy sellers I hope you take a moment to check out Erin's's shop and that you enjoy her creativity as much as I did.

www.weepingmulberry.etsy.com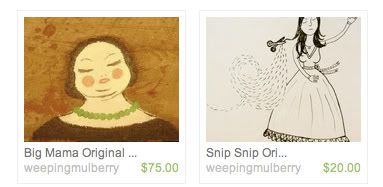 Who are you?
My name is Erin Peterson. I live in a tiny apartment in Baton Rouge, Louisiana with my artist boyfriend and all our little pets.

How did you get started?
I was born with a paintbrush in my hand and an apron around my neck. In other words, I can't even remember a time when I wasn't creating something. I love to paint and draw more than anything else.

What inspires you?
I'm inspired by other artists, nature, music, and literature.
My blog is
www.erinpetersonart.blogspot.com