This is number ten in my series on featured Etsy sellers I hope you take a moment to check out the Giggling Fish shop and their beautiful repurposed jewelery.
www.gigglinggoldfish.etsy.com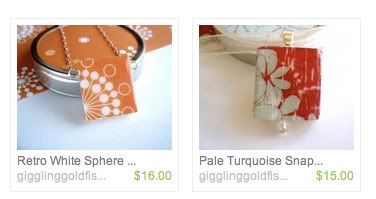 Please tell us about yourself.
I come from a family of artists and crafters, so I have been creating ever since I can remember.
I grew up in my dad's wood working shop and learned early on that I love to work with tools and my hands.

What inspires you?
I am absolutely inspired by all things around me.
I enjoy creating items that are from reclaimed materials. I don't throw much of anything away because I know someday I will find a fun and creative use for it. I have a huge passion for re-purposing found items, especially furniture pieces.
Right now I create items with my 11 year old daughter for our shop, but I am opening up a new shop very soon on my own. I am having a serious love affair with paper and have been inspired to create so many new items.