SweetShawty.etsy.com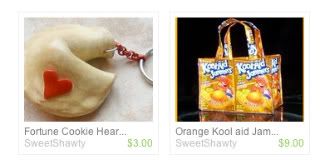 Who are you?
My name is Sara and I am ''Sweet Shawty''! I am truly a ''Shawty'' at only 5 foot. I am a mom and a wife. It's so exciting to me to see things come to life step by step. I really like to dabble in as many media as possible. I try to make items that people have never seen before. I'm rather Silly. I love to laugh! I am completely in touch with my inner child! =)

How did you get started?
I get my talent from my Great-Great Grandmother. I've always loved to create things. Even when I was a little girl I would sit and try to make things (back then I was usually making things out of legos). Then as I got older, I would make things for my friends as gifts. Every one would always tell me I should try to make a living from my talent and so here I am selling my items on Etsy and Ebay.
What inspires you?
I get my inspiration from my husband. We actually feed off each other. My husband is an artist and when he is at home painting and using his talent it inspires me to go create myself. For my years I neglected my talent. I never made time for it. But he has helped bring it back to me, for which I am very grateful!
Your shop has a lot of items made from recycled materials. Do you want to share any eco friendly/recycling sort of tips?
I just want to say that we all should value this place we live. And by recycling we can do our part to try to keep this world a beautiful place.
Blog:
http://sweetshawty.blogspot.com